imkittymyers at hotmail dot com
Tuesday, March 08, 2005
WHADDA GAL!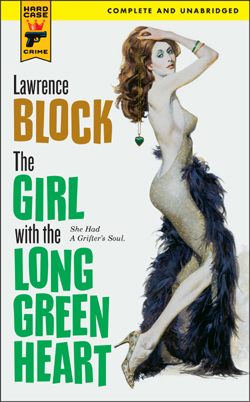 She was every man's dream—and one man's nightmare.

Are you a softie for hard-boiled crime?
Forty years ago, Lawrence Block wrote what some have called the best novel about con artists ever written:

THE GIRL WITH THE LONG GREEN HEART

. This November we'll be bringing this classic crime story back into print. And we couldn't be more excited about it -- not only are we bringing you an amazing book by the author Stephen King called "[the] one writer of mystery and detective fiction who comes close to replacing the irreplaceable John D. MacDonald," but it's going to be published with a brand-new cover painting by the legendary pulp artist Robert McGinnis.
|
|
Links to this post:
Links to this post